Note: While on the Free plan, you can have up to 2 job positions published simultaneously. You can have more job positions in Archived or Draft status. On the other hand, the Basic plan offers unlimited job posting capabilities, allowing you to post as many job positions as needed to meet your recruitment goals.
Once candidates have applied for your open job positions, you can manage their applications, leave notes, move them through the stages of the application process, and ultimately, choose to hire or reject applicants according to your goals. Also, TalentHR lets you build and manage a talent pool for future job opportunities that might come up.
To manage your candidates' applications:
Navigate to "Hiring", go to "Candidates", and select the "All candidates" (1) tab. Here, you can see a list of all your applicants.
Use the search field (2) to locate a particular candidate and sort candidates by name or by last added (3).
You can see how many times each candidate has applied and when this application was made. Click "Add to job" (4) on a candidate's card to add the candidate to the pool of another open position in addition to the one they have applied for.
Click the bin icon (5) to delete a candidate. Note that this is not a reversible action.
Select any candidate's card (6) to open their application.
Alternatively, you might want to see candidates grouped by job position. Go to "Hiring" and select "Positions" (7). Click on any job position under the "Active" tab (8). Applicants will appear organized by the stage of the application process they're in. Click on any stage (9) to see the applicants under it, then click on any candidate's card to open their application.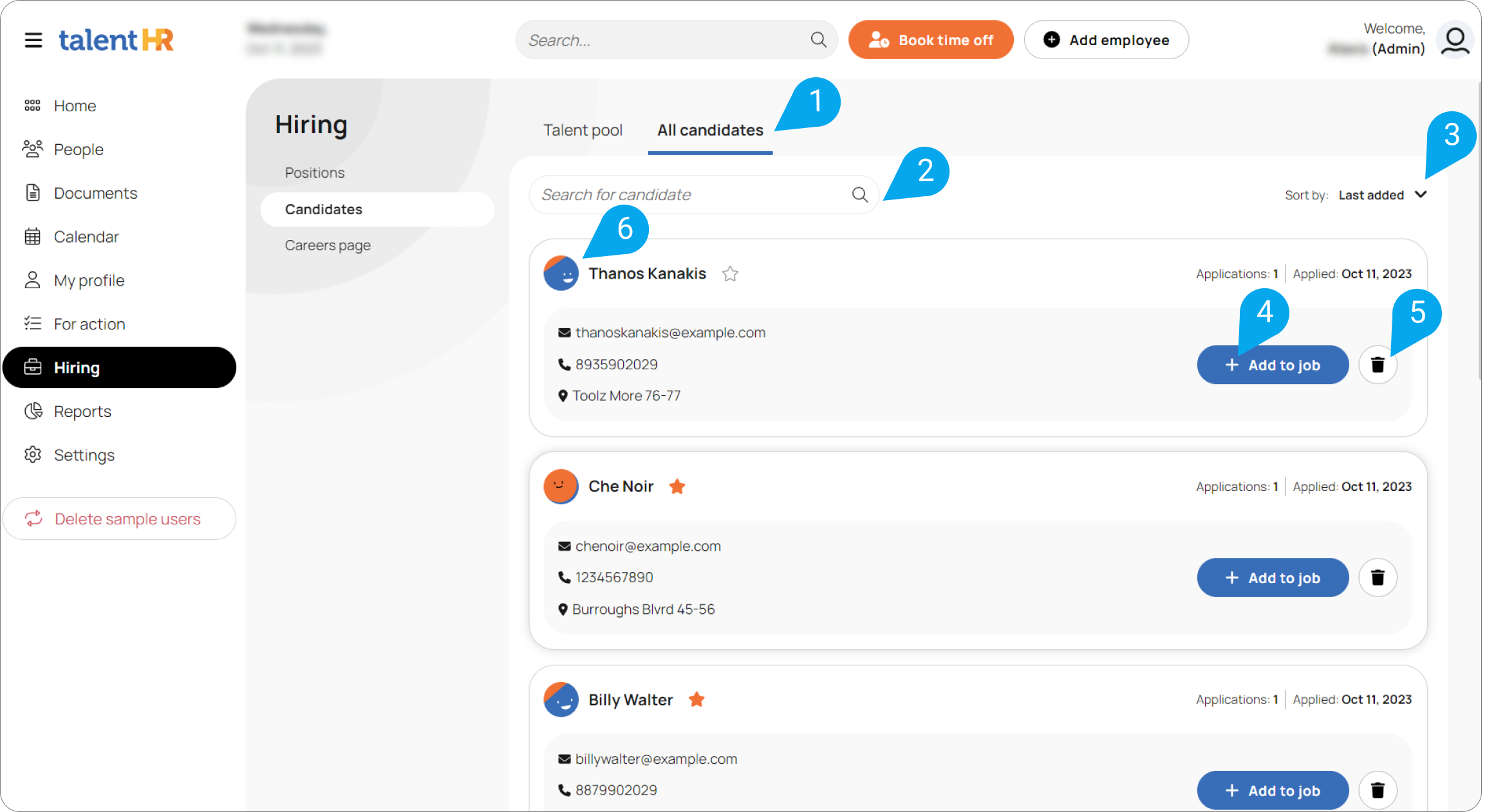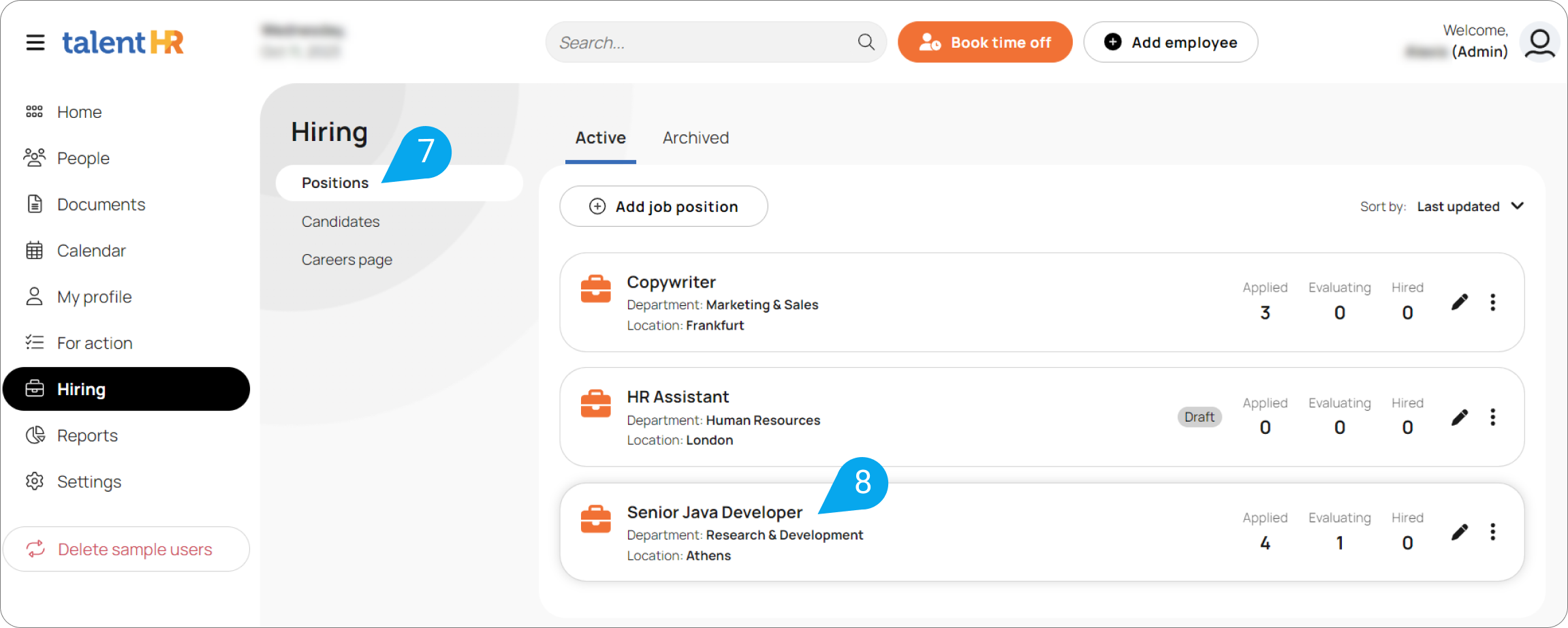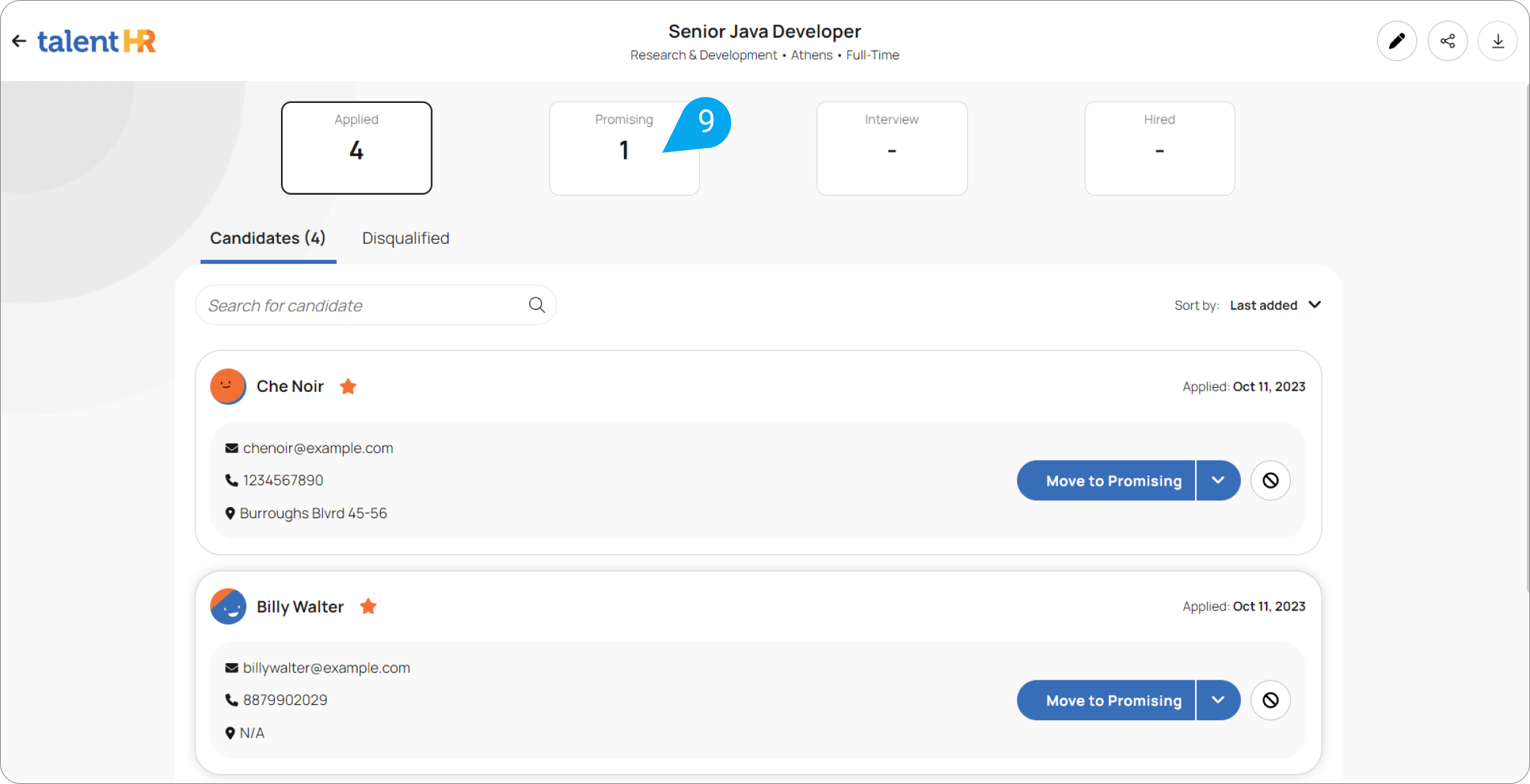 The application:
The application will show your applicant's contact information, their address, any details or info they've added while applying and of course, their resume, which is downloadable (1).
Leave notes on the right-hand side panel (2) if necessary.
Click the blue button (3) to move the candidate to the next stage of the application process, or click the arrow button (4) to move them to any stage of your choice freely.
Click the Disqualify button (5) to reject the application. Once you've rejected an application, you can click the Return to candidates button to reverse the action.
On the upper right-hand corner of the screen, you can see the current number of applications for the same position. Use the left and right arrow buttons (7) to move between candidates.
At any point, you can add one or more candidates to your talent pool. Just click the star icon (8) on any candidate's card.