Note: While on the Free plan, you can have up to 2 job positions published simultaneously. You can have more job positions in Archived or Draft status. On the other hand, the Basic plan offers unlimited job posting capabilities, allowing you to post as many job positions as needed to meet your recruitment goals.
TalentHR gives you the tools to manage job position openings and track potential talent seamlessly through the application and hiring process. You can add new job positions or manage existing job positions easily.
To add a new job position:
Navigate to "Hiring", go to "Positions", and make sure the "Active" (1) tab is selected
Click "Add job position" (2).
Type a Job title (3) for your position.
Specify the Department (4).
Choose the Employment status (5) for this job position. The options are Full-time, Part-time, Contractor, Furloughed.
Choose the Job location (6).
Specify whether the position will be Fully remote (7) or not.
Choose how many Stages (8) an application can go through until a potential applicant is hired. The first and last stages are necessary and can't be disabled. You can add up to 3 more stages.
Optionally, rename any of the stages by clicking the pencil icon that appears if you hover over any of them.
Finally, add a Description (9) for your job position. You can enter your own description or use our AI-powered tool to generate a job description automatically, choosing between Balanced, Formal, and Friendly styles.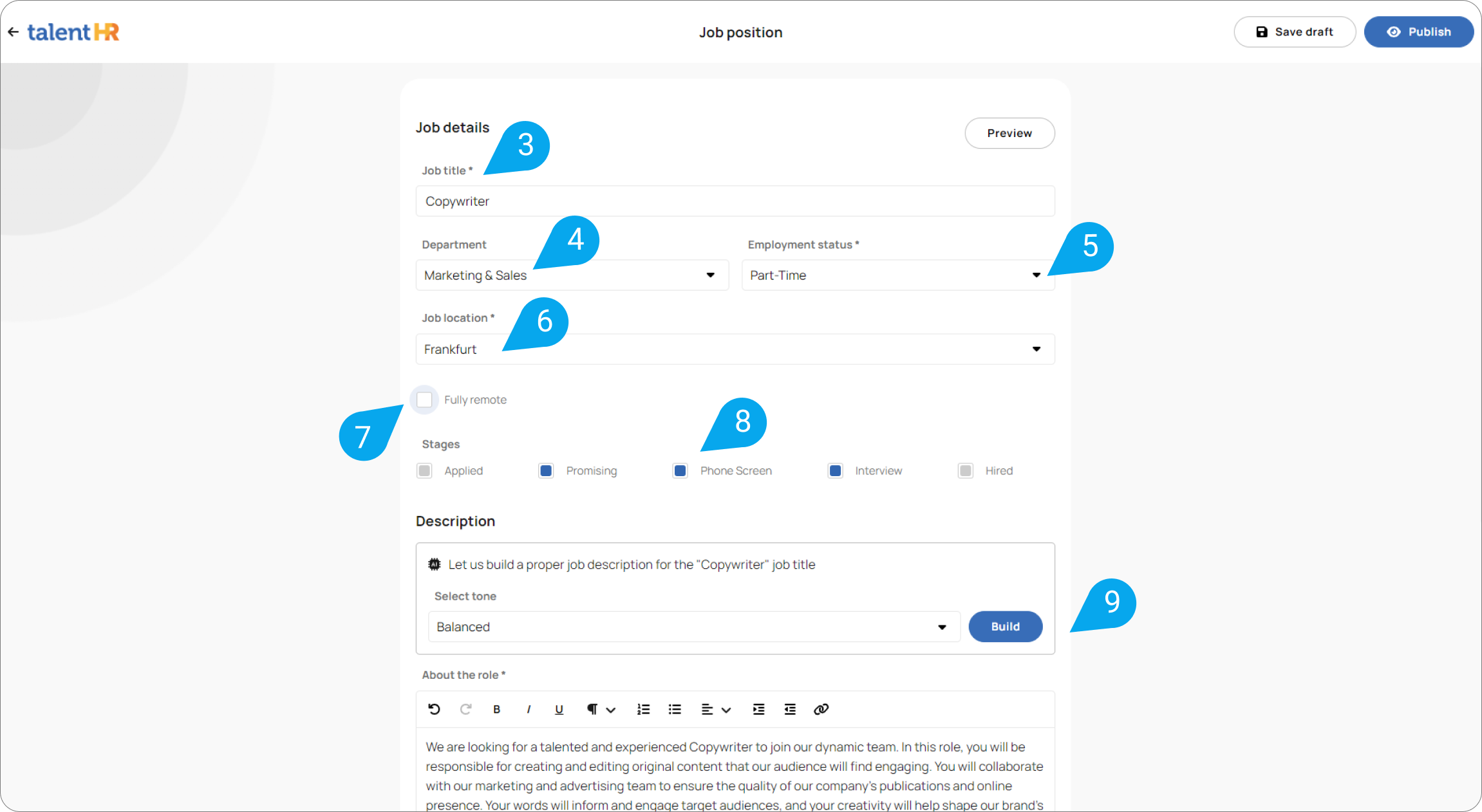 At any point, click "Preview" (1) to see what your job application will look like for applicants. Click "Save draft" (2) to save your work and "Publish" (3) your job position at your convenience.
Your position will be posted on your Careers page. You can also copy the URL of your job position from the Positions tab and share it as necessary.